Our Composite Decking Services
A composite deck is the cherry on top of any Ohio landscape. Whether it surrounds a pool, a bonfire, or a beautiful backyard, the right composite deck can pull every element of your yard together.
PurGreen Group specializes in composite decking, giving you the look of a wood deck without the work it takes to maintain one. We're proud to offer excellent financing and superior landscape design in order to give you the landscape of your dreams.
Ready to bring your backyard together? Contact PurGreen Group online today. Let's work to design a beautiful deck that shows off your yard, landscape, and design.
What To Expect From Our Composite Decking Services
After 41+ years in the hardscaping and landscaping industry, PurGreen Group is a force to be reckoned with. Our composite decking services not only elevate your yard, but create a personalized space for family, friends, and memories.
When you make a phone call to request a composite deck, here's what you can expect:.
1. Before we break ground on your upcoming project, we provide you with a 100% free consultation. One of our professionals can walk through your property and offer an estimate of what it may cost at the end. We then narrow down and decide on the right budget to make sure we find a price point that works for you.
2. Next, one of our professionals creates a 3D design of your deck using Uvision technology by Unilock. This allows you to enjoy a virtual walkthrough of your to-be-renovated backyard so you know exactly what to expect before kicking off your project.
3. After you've approved the design and layout of your deck, we can discuss a schedule that best works for you. We also coordinate the installation of your new deck to minimize distractions and make the most of your time.
PurGreen Group works tirelessly to stay on budget and complete your composite deck exactly the way you expect. Contact us today to learn more about our services and request a custom estimate as soon as possible.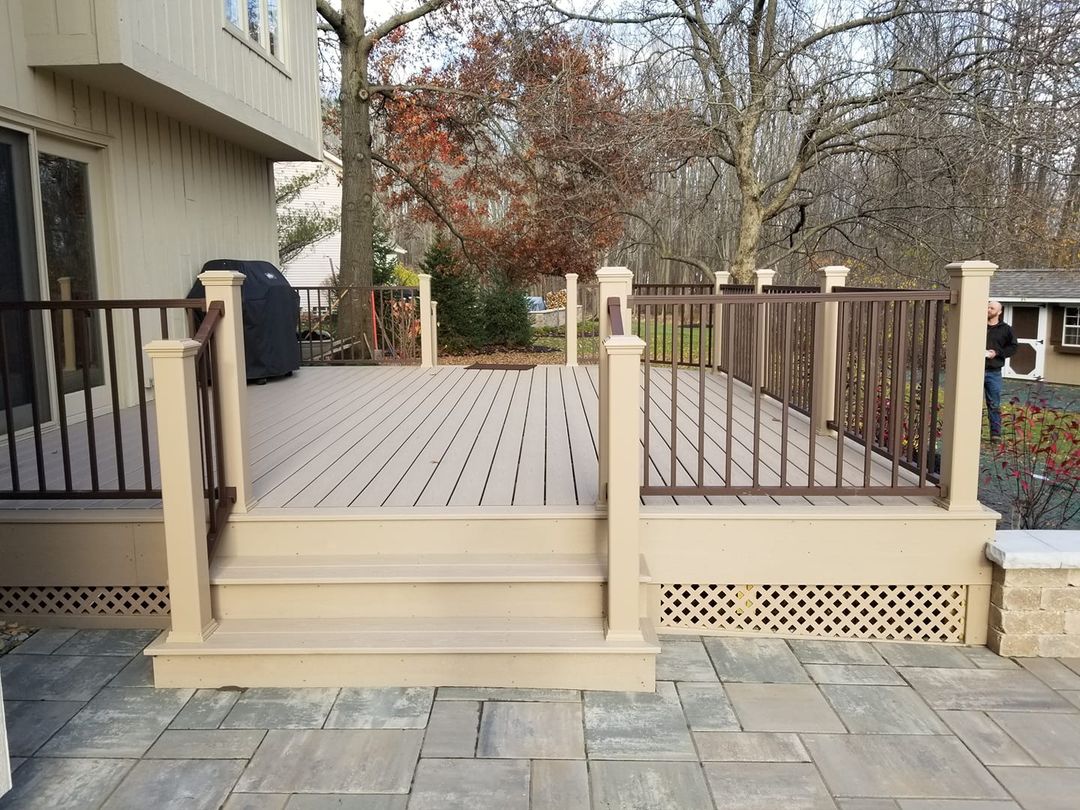 Frequently Asked Questions About Composite Decking
There are a lot of different things to keep in mind when it comes to choosing a composite deck, and odds are, you have a lot of questions. Our job at PurGreen Group is to alleviate some of the pressure and help you better understand the overwhelming nature of your project.
Here are some things to consider when it comes to choosing a deck, as well as why composite decking might be the right choice for you.
Q: Wood vs composite, which is better?
A: Wooden decks can be hard to maintain, requiring anywhere from 16 to 32 hours of labor per year. Composite decking, in contrast, requires just two to four hours of maintenance per year. Since the material is waterproof by design, rot and splinters are not an issue. You also don't need to worry about staining after installation, as composite finishes are extremely durable and last the entirety of the deck's lifetime.
Q:
Does composite decking look artificial?
A: Many decades ago, composite decking had a reputation for looking cheap and inauthentic. However, recent developments in composite wood decking have eliminated this look completely. Today, the artificiality of composite decking has given way to beautiful designs, durable finishes, and authentic-looking wood grains.
Q:
Is composite decking cheaper than wood?
A: Yes and no. Upfront, the cost of wood decking may be cheaper. However, in a few years, the cost of maintaining a wooden deck may add up significantly. Composite decking stays in better shape for longer, and rarely requires more than a few hours of maintenance per year. This causes the price to even out over time — and err in favor of composite decking.
Keep in mind you may request a free quote for composite decking at any time. PurGreen Group can pinpoint a general price range within 15 minutes of surveying your property.
Get The Deck You Want With PurGreen Group
Getting a new composite deck has been a dream of yours for years. And for the professional team behind PurGreen Group, our dream is to help you bring it to life. We're passionate about helping our customers design the property of their dreams, and implement the choices, colors, and styles that bring their vision into reality.
Keep in mind our professionals can assist with powerful landscape design tools. Whether you're looking to revamp your existing space or break ground on a brand-new structure, we can help you determine the best next steps and visually evaluate your deck before it becomes reality.
It's time to give yourself a composite deck you can truly feel good about. Give PurGreen Group a call at (440) 256-1800 to put your plans in motion. We look forward to turning your composite decking dreams into a tangible reality.