So you're ready to upgrade your backyard with a beautiful new paver patio. The trouble is, you're not sure exactly what kind of patio you'd like — or what the possibilities may look like for your Northeast Ohio home.
We put together this ultimate guide to paver patio ideas in Northeast Ohio. Once you find a picture you like or come up with a great idea, you can get in touch with PurGreen Group to get a free estimate for your project.
Now, let's dive in.
The Best Paver Patio Ideas For Your Backyard
It only takes a spark of inspiration to ignite the flame of an idea.
You can use these paver patio ideas to inspire your upcoming landscape design.
Simple Yet Chic
This luxurious paver patio combines the comfort of a fire pit with two eye-catching pillars. With some plants, flowers, and your favorite outdoor furniture, you can easily enjoy a serene backyard space packaged in a simple, no-nonsense design. Just don't forget the marshmallows!
Patio + Retaining Wall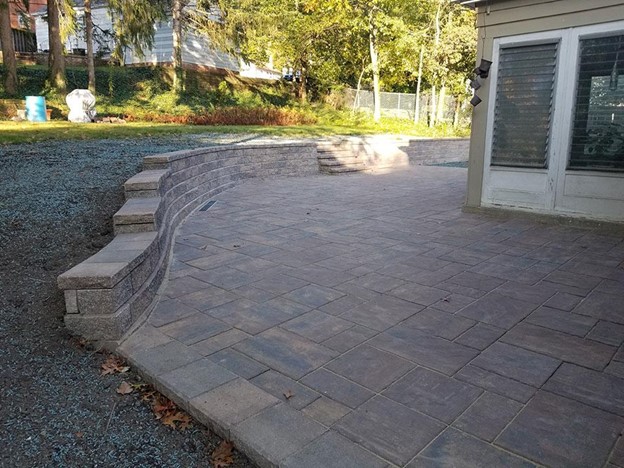 Does your land rest on an awkward slope? You can combine your paver patio with an elegant-looking retaining wall. Not only can this help to control the flow of water around your property, but it effortlessly updates your limited backyard space with flatter ground and unlimited possibilities.
Making The Most Of Your Slope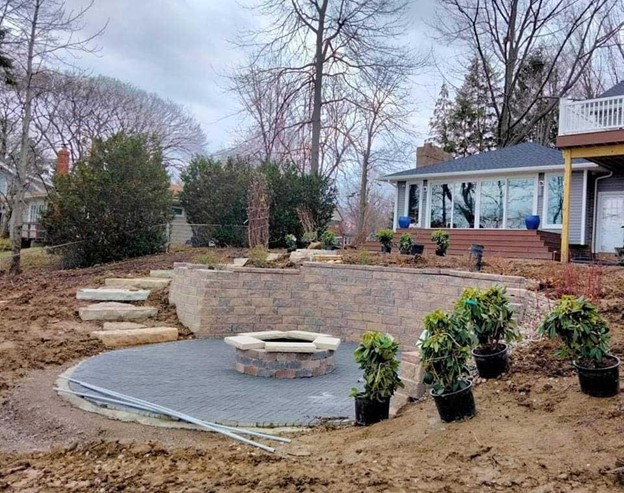 Maybe you don't want to flatten your property out from the home to the yard. Instead, you can create a beautiful patio stretching from the yard to the home, which can help you control heavy rain without compromising your outdoor space. Strategically-placed shrubbery (as shown here) can provide an additional layer of privacy.
Turn Up The Heat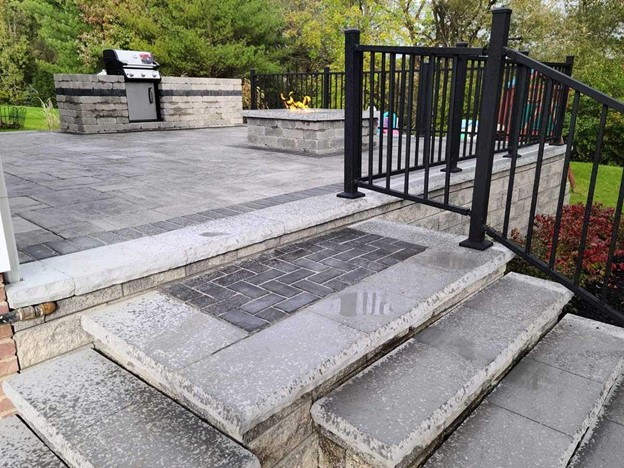 Outdoor cooking aficionados will fall in love with this built-in grill and fire pit combo. The extra counter space provides plenty of room for grilled goodies, while the spacious area near the fire supports lots of comfy chairs. This is a must-have for any backyard pitmaster!
The Multileveled Space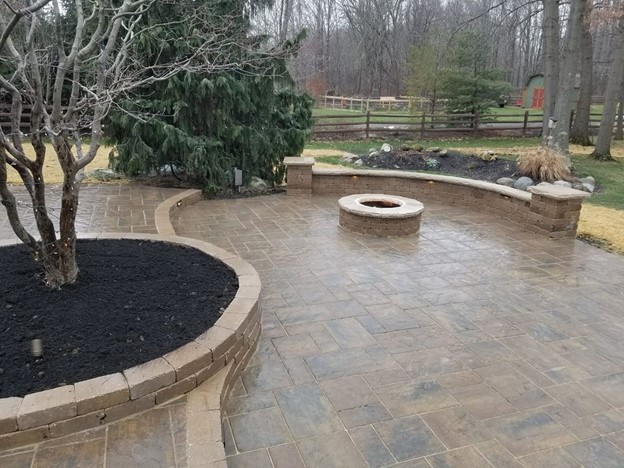 Say your land is on a slope but you don't want to grade the entire area. In that case, switching to a multileveled paver patio can help you maximize your land without compromising on looks. The best part? These beautiful Unilock pavers also come with a two-year workmanship guarantee!
The Rotunda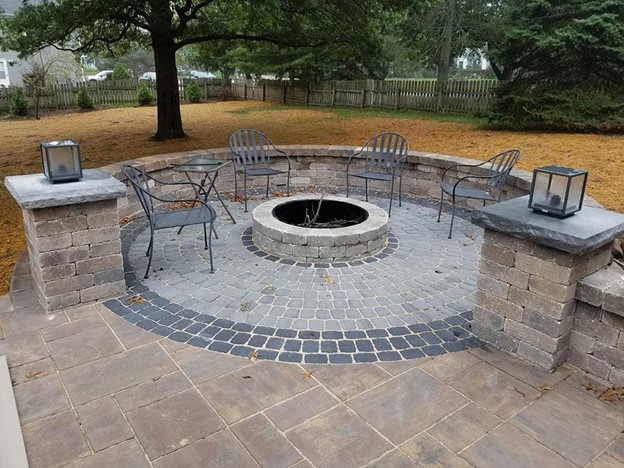 There's something really special about an intimate paver patio where guests can kick back, relax, and enjoy a crackling fire. This circle-shaped paver patio offers all the bells and whistles, including a beautifully designed paver pattern that's sure to turn heads. The strategically-placed low voltage lighting fixtures also add a touch of finesse to each pillar.
Multipurpose Patios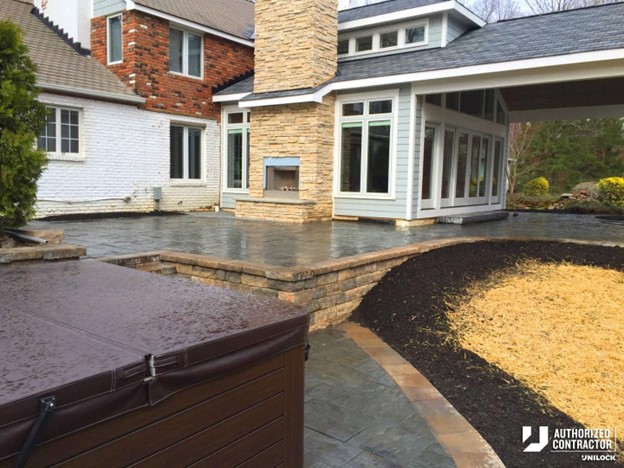 You want a space where you can entertain guests, enjoy a roaring fire, and slip into a bubbling hot tub. Multipurpose paver patios can help you do just that, especially with the right landscaping choices and fast-growing shrubs. All you have to do is schedule a 3D design, then pick out your favorite outdoor furniture to match.
From Wood To Stone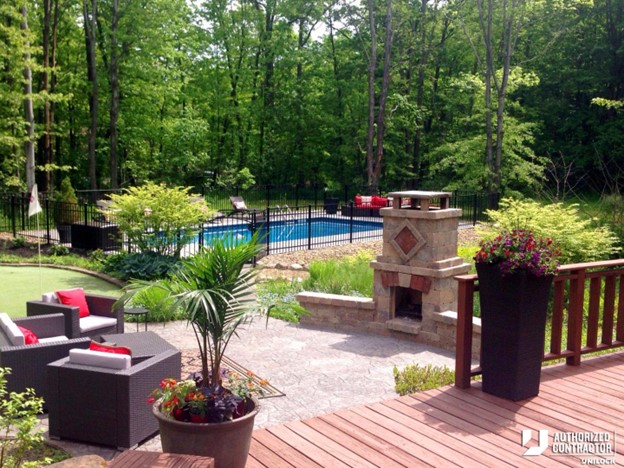 If you already have composite decking on your property and want to take things to the next level, you can construct a paver patio space that effortlessly flows from one environment to the next. This example comes with an outdoor fireplace and an in-ground pool, which shows just how versatile this style of hardscaping can be. Remember: you have the freedom to choose from dozens of paver colors to match your needs or preference.
Water Features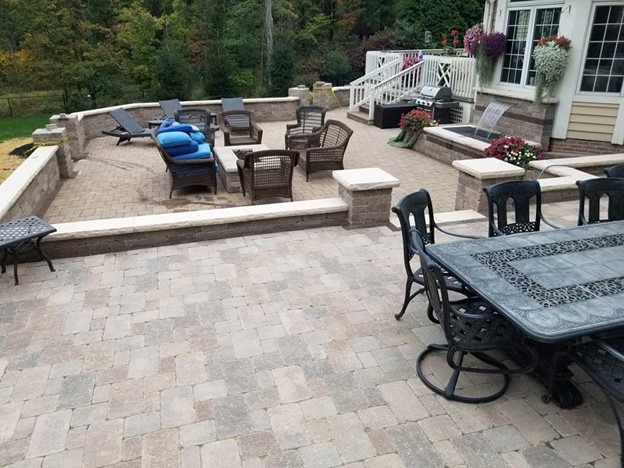 Who doesn't love the look of a well-placed water feature? This paver patio offers plenty of space with a focal point of an elegant fountain. Perfect for large family gatherings or frequent entertainment, you can scale the space up or down to meet your unique needs.
Al Fresco Ambiances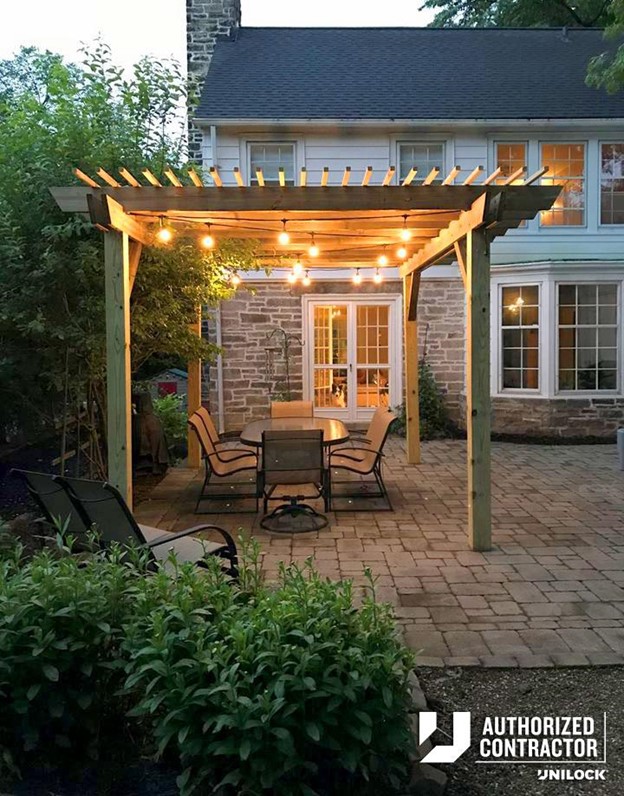 Picture yourself dining out-of-doors under the welcoming branches of a blooming clematis. With this simple yet powerful paver patio design, you can experience all this and more. Adding a touch of thematic lighting can also add emphasis during the evening hours.
Four Seasons Patios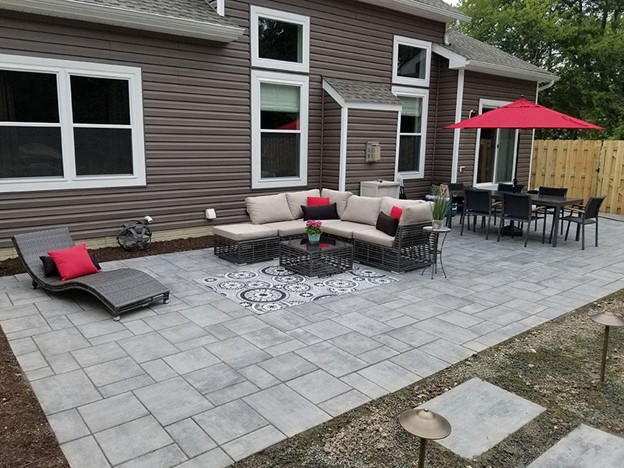 Embrace the elegance of each season in a quiet, private space. You can soak in the summer sun on a lounge chair, sip coffee on the couch during the spring and fall, or watch the kids build their annual snowman from the comfort of your covered table. Best of all, the professionals at PurGreen Group could construct this simple design quickly, efficiently, and on-budget.
High Rise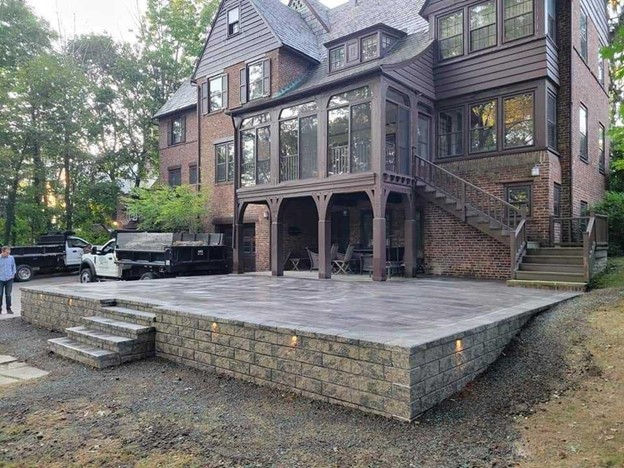 Who said paver patios had to be flat? This unique design bevels the patio space to meet the homeowner's basement door while remaining level with the descending deck stairs. Notice the circular lights embedded into the stone work, as well as the minimal amount of grading required to install.
Fire And Water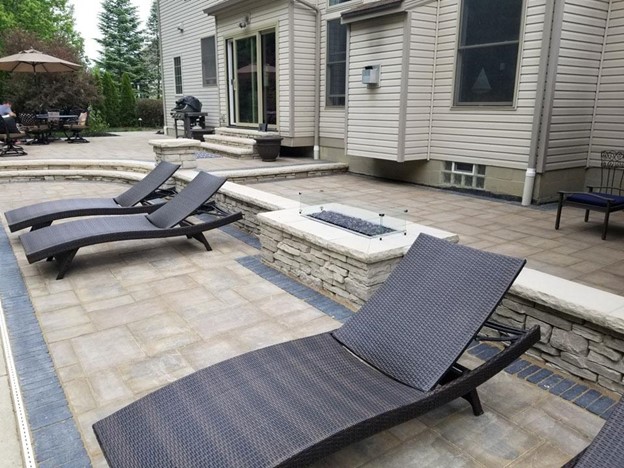 You can see how the installation of a built-in fire feature has transformed this conventional patio into a bustling entertainment hub. Notice how the low walls and gentle curves gently wrap around the swimming area, while the neutral colors and earth-toned pavers blend seamlessly into the surrounding environment. This is a perfect paver patio for the active outdoorsy family.
Contact PurGreen Group Today For More Paver Patio Ideas
Whether you've fallen in love with a paver patio idea or want to build something more customized, you can rely on the team at PurGreen Group to achieve every goal for your project. Our company boasts more than 41 years in the landscape design space, and we would be honored to assist with a free consultation and personalized landscaping services for your yard.
There's no need to stress about getting the right approvals, and no reason to worry about the quality of our work. Since PurGreen Group is a Unilock Authorized Contractor that can gather permits on your behalf, you always have access to a two-year Peace-Of-Mind Workmanship Guarantee and can rest easy knowing you made the right decision.
Ready to discover the possibilities? Contact PurGreen Group at (440) 256-1800 to request for a free in-person estimate. We look forward to evaluating your existing space and designing a bespoke paver patio.