Everyone loves a well-landscaped yard, especially here in Northeast Ohio. However, some spaces are harder to landscape than others — especially our front yards!
HOAs and other communities may have strict expectations regarding what you do with your space. Plus, with so much curb appeal and visibility, you may feel stressed about accidentally 'messing up.' What would the neighbors think?
If you're stuck deciding what your front yard should look like, you've come to the right place. PurGreen Group has collected some of our favorite front yard ideas to help you create a beautiful yet meaningful landscape design.
In a hurry? Here's everything you need to know:
Put Down In-Ground And Potted Plants
Try Potted Plants With A Twist
Define Your Space With Mulching
Mulch The Front Yard With Stone
Plant Low Maintenance Grasses And Shrubs
Turn To The Trees For Some Privacy
Upgrade Your Retaining Wall
Repurpose Old Rocks Into A Complementary Feature
The 8 Best Front Yard Landscaping Ideas for Northeast Ohio (2023)
It's time to give your front yard a landscape makeover.
Let's look at some beautiful ideas that are sure to make the neighbors jealous — starting with the easiest option.
1. Put Down In-Ground and Potted Plants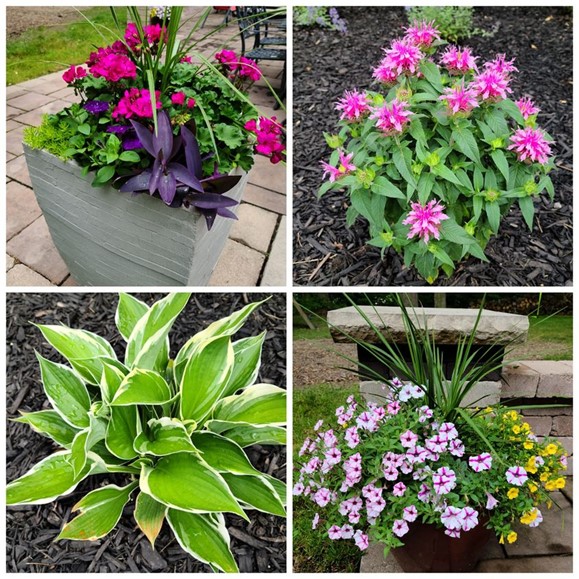 You don't need to have a big front lawn to build a beautiful landscape! With the help of some potted plants and well-suited native cultivars, you can create an eye-catching space that maximizes every square foot of lawn.
Some popular front yard landscaping plants in Northeast Ohio include:
Black-eyed Susan
Bee balm
Blue false indigo
Butterfly weed
Hosta
2. Try Potted Plants with a Twist
Maybe you don't have the space to put any plants in the ground. Why don't you try a more vertical approach — starting with trailing plants!
You can purchase beautiful potted plants alongside climbing vines to highlight retaining walls, stone fences, and other boundary markers in your front yard.
There are all sorts of different non-invasive vines to try, including:
Trumpet honeysuckle
Clematis
Morning glories
Climbing hydrangeas
American wisteria
3. Define Your Space with Mulching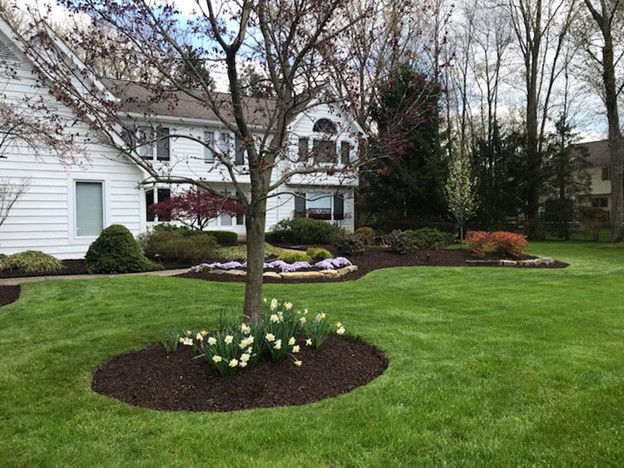 Perhaps the greatest good you could do for your front lawn is give it a gentle touch-up. This means pulling up weeds, edging your sidewalks, and putting down a new layer of mulch.
Once-yearly mulching can help plants retain water while simultaneously redefining your planting beds. Plus, with so many unique materials to choose from, you can establish a color pattern and landscape texture all your own.
Many landscape mulches come in color palates of:
Black
Brown
Red
Natural (no dye)
However, you can also try a very different type of mulching. . .
4. Mulch the Front Yard with Stone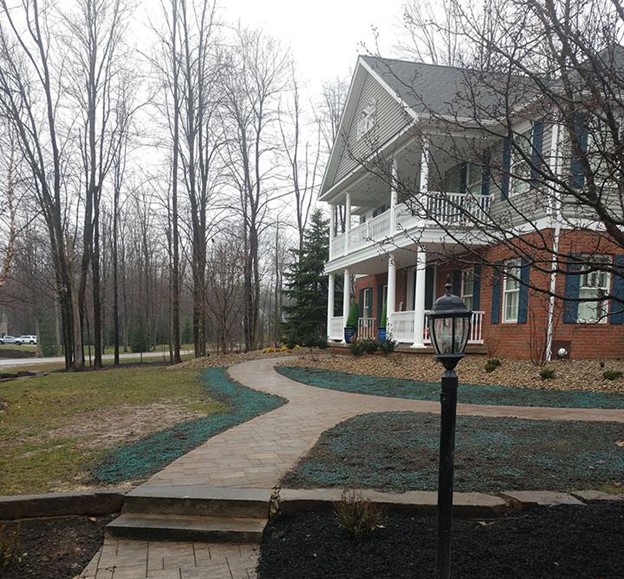 Stone is the unsung hero of many front yard landscapes. Not only is it long-lasting and fun to look at, but it also fights unwanted pest infestations and slows weeds from growing in unexpected places.
You don't have to landscape your entire front yard with slate, river rock, or pebbles. Instead, you can opt to create a two-foot barrier around the house, or establish new rock beds near lampposts, trees, and centerpieces. The sky's the limit!
5. Plant Low Maintenance Grasses and Shrubs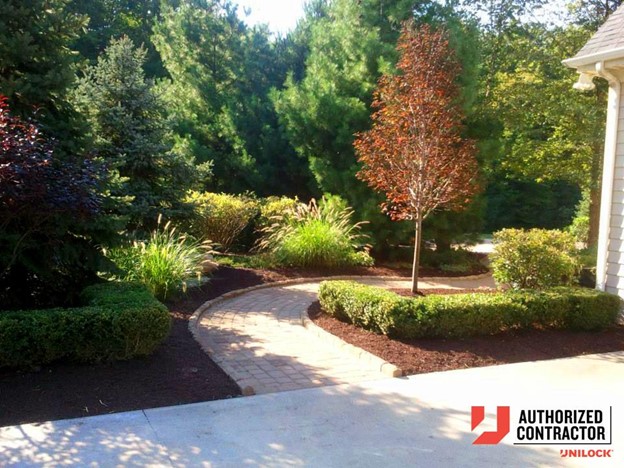 Don't have the time or energy to maintain flowers in your yard? Why not opt for something more maintenance free (like grasses and shrubs) instead?
Many native grasses and hardy bushes look beautiful in any front yard. Blue oat grass and feather reed grass are two popular and fast-growing options. You could also try humble boxwoods or spring-blooming azaleas for a charming look without the seasonal maintenance.
6. Turn To The Trees For Some Privacy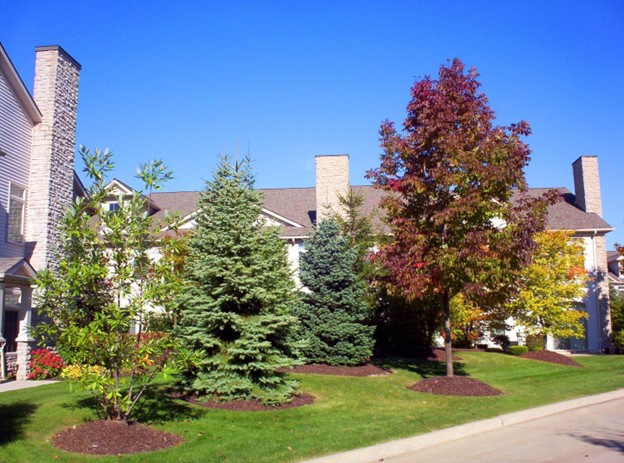 If flowers and grasses just aren't your style, you could opt for the simplest, quickest, and most long-lasting landscape plant of all — trees! Not only do they make an excellent low-maintenance option, but they provide much-needed privacy around the corners of your home.
Northeastern Ohio is awash with unique tree species, including fast-growing cultivars with beautiful fall foliage. You may want to consider:
Dogwoods or redbuds
Cypress trees
Maples and pines
7. Upgrade Your Retaining Wall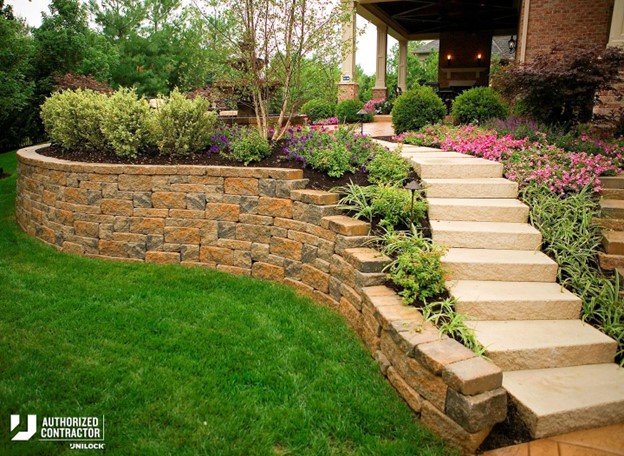 Many homes in Northeast Ohio have retaining walls to help with drainage and erosion control. Rather than letting these walls sit alone in the yard, why not upgrade your space with some clever landscaping?
Just follow the basic rules of planting to build a beautiful space:
Put tall plants in the back and short plants at the front
Plant native as often as possible to protect your local habitat
Install shrubs and perennials first to create a long-lasting design
8. Repurpose Old Rocks into a Complementary Feature
Have some rocks left over from a past hardscaping project? Not sure what to do with all the stones around your new construction? Now's the perfect time to create a unique landscaping feature in your front yard!
You could use rocks or stones from a previous project to create borders, boundaries, and even short walls around the yard. Maybe you could build a stony border around trees or create a mini retaining wall for hydroseeded grass.
With a team like PurGreen Group by your side, you can bring all this to life and more.
Let PurGreen Group Bring Your Front Yard Landscaping Ideas To Life
The front yard will be the first impression visitors get of your home — which is why focusing on a beautiful space matters more than many of us realize. You need a space that not only welcomes visitors but shows off your personal style. And if you're serious about bringing your vision to life, you need the team at PurGreen Group.
You can request a free in-person consultation by calling 440-256-1800. We would be happy to provide a complimentary estimate before creating your personalized 3D landscape design.