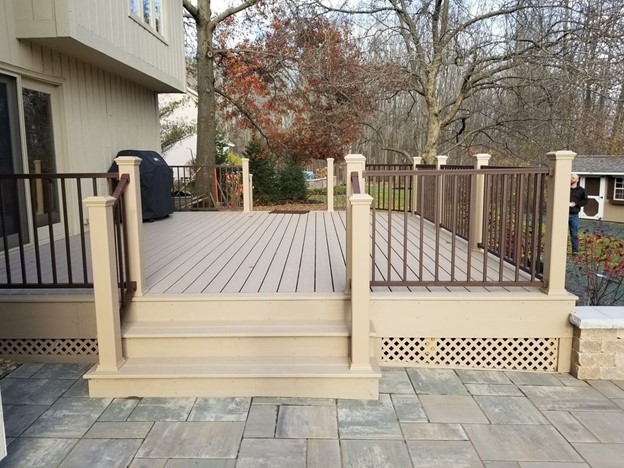 So you're ready to install composite decking around your home or business. The trouble is, you're not sure which type of material makes the most sense for your property.
You have three options:
Solid composite decking

: Best for heavy-duty installations with heavier footfalls.

Hollow composite decking

: Best for retrofitting decks with existing structures.

Capped composite decking

: Best for temperature shifts or extreme wear and tear.
This guide explores all three types of composite decking so you can make an informed decision for your upcoming project. Once we define and describe each type of decking, we outline the pros and cons so you can decide which is best for you.
Looking for a professional company to install your composite decking? We also explain how PurGreen Group can realize your perfect hardscape.
Now, let's take a closer look at the best composite decking for your Northeast Ohio property.
The Best Composite Decking Compared Side By Side
Just looking for the SparkNotes?
Here's a handy comparison chart of how the best composite decking lines up.
| | | | | | |
| --- | --- | --- | --- | --- | --- |
| Decking Type | Recycled Materials | Warping Concerns | Polymer Sleeves | For Swimming Pools | For Cladding And Siding |
| Solid Composite Decking | ✔️ | ✔️ | ❌ | ✔️ | ❌ |
| Hollow Composite Decking | ✔️ | ❌ | ❌ | ❌ | ✔️ |
| Capped Composite Decking | ✔️ | ❌ | ✔️ | ✔️ | ❌ |
Curious to learn more about these differences in detail?
Read on to get the full scoop below.
How Do The 3 Best Composite Decking Materials Line Up 
You deserve a composite deck built with the perfect material for your needs.
Let's take a look at the options available, starting with one of Northeast Ohio's favorites:
1. Solid Composite Decking: Best for heavy-duty installations with heavier footfalls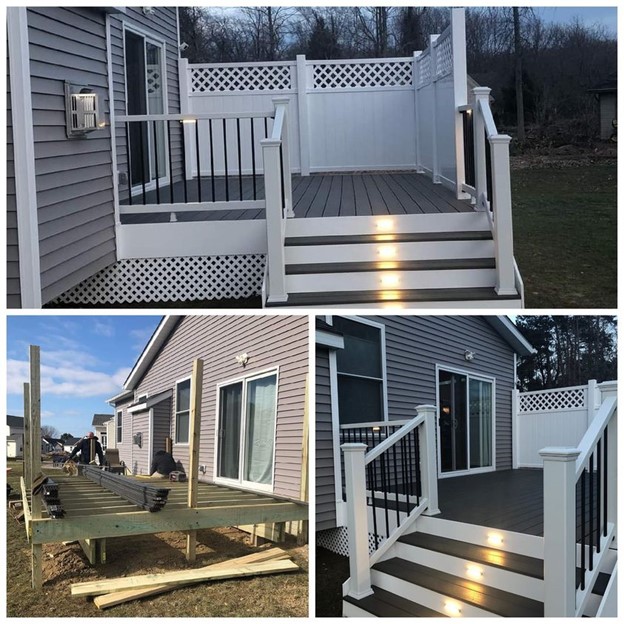 Solid composite decking is a type of building material created by compressing waste wood into a single board. This makes it a natural-looking and eco-friendly alternative for property owners interested in sustainable decking materials.
Solid composite decking is a popular alternative to wooden, aluminum, or vinyl decks. Not only does it come in dozens of different colors, but its dense, reinforced shell is perfect for heavy-duty use.
You can use solid composite decking to support grills and heavy furniture, since this material can support hundreds of pounds per square foot. However, it's not a perfect solution — and its solid build can cause problems while shipping, transporting, and installing each board.
Solid Composite Decking Pros
Highly durable

Great for heavy footfalls

Perfect for heavy equipment
Solid Composite Decking Cons
Higher risk for warping

Expensive up-front costs

Extremely heavy (requires professional assistance)
2. Hollow Composite Decking: Best for retrofitting decks with existing structures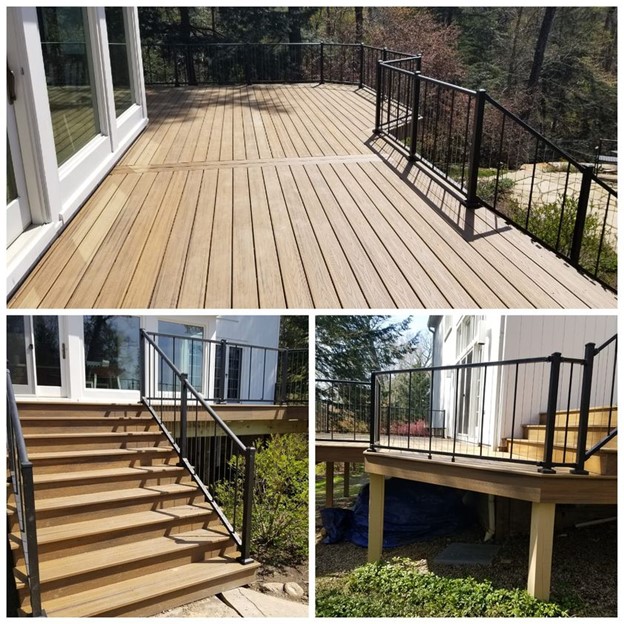 Hollow composite decking is exactly what it sounds like: compressed pieces of waste wood with a wide, hollow interior. The lighter build and uniform pattern makes it easier to install in the yard, while the interior comes with nooks and crannies for running wires and electrical cables.
Since hollow composite decking requires less wood to make a board, the price point may be lower than its solid board alternatives. Just keep in mind these hollow boards aren't a perfect solution or poorly draining yards. You may struggle to ward off mold and mildew or prevent your boards from attracting pests.
With the right professionals by your side, however, hollow composite decking may be a great solution for your yard. You may opt to use this material in quieter backyard hardscapes, especially ones with less foot traffic or out-of-the-way locations.
Hollow Composite Decking Pros
Lighter and easier to move

Unlikely to warp or bend in extreme weather

Perfect for installing cables, cladding, or siding
Hollow Composite Decking Cons
Less resistant to footfall impacts

Requires capping or fascia boards on edges

May collect water or mold without professional installation
3. Capped Composite Decking: Best for temperature shifts or extreme wear and tear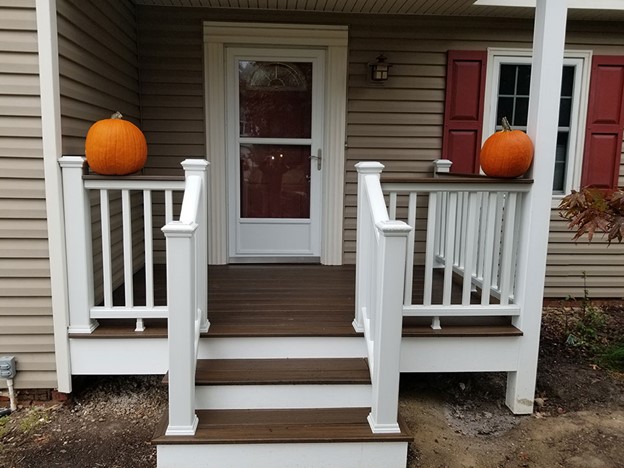 Capped composite decking is essentially the ultimate form of pressboard, designed to withstand extreme temperatures and significant wear and tear. Home and business owners love its tough and durable natures, especially customizability in terms of size, shape, and color.
The good news about capped composite decking? It's strong, effective, and durable. But keep in mind these benefits come at a higher price — and the average cost per square foot may be more than you're willing to pay.
If you're looking to install a swimming pool, entertainment area, or commercial deck, you may want to consider capped composite decking to achieve a long-lasting finish.
Capped Composite Decking Pros
Very unlikely to warp, bend, or wear down

Resistant to stains, scratches, and discolorations

Perfect for heavily trafficked areas with plenty of moisture
Capped Composite Decking Cons
More expensive than other decking options

The core may be susceptible to insects, mold, or water damage

May retain more heat and be hotter to the touch than other decking
Install The Best Composite Decking With PurGreen Group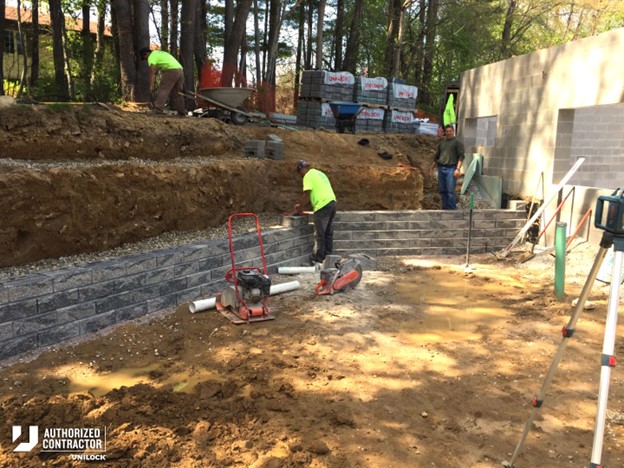 It can be tough to determine the best decking for your needs, and harder still to find a contractor with the experience to install it. But as long as you're local to the Northeast Ohio area, you can trust PurGreen Group to bring your composite decking dreams to life.
Serving hundreds of customers over a 41+ year history, PurGreen Group remains an industry leader in the landscaping and hardscaping industry. We're glad to assist with the installation of composite decks — and our five-star reviews truly speak for themselves.
Set yourself and your landscape up for success by calling the team at PurGreen Group today. We look forward to setting up an in-person estimate so we can offer a comprehensive estimate.