Tired of looking at your boring backyard? Sick of putting up with a passionless patio? You need more than just a few potted plants — it's time to upgrade your space with a brand-new hardscape!
This guide explores five different types of outdoor hardscapes trending in Northeast Ohio, including:
Kitchens
Entertainment Areas
Gathering Spaces
Fences
Patios
Do you need a professional designer to blueprint your next hardscape? We show you how to request your free estimate at the bottom of this guide.
5 Outdoor Hardscape Trends For Northeast Ohio Homes
Keeping up with the Joneses doesn't have to be difficult.
Here are five trendy hardscape designs to fuel some ideas for your next outdoor project.
1. Add an Outdoor Kitchen
Outdoor kitchens are a beautiful, seamless, and cost-effective way of improving your backyard. Landscape designs can be as complex or as simple as you want, with the only limit being your imagination.
If you're not sure what kind of kitchen design you want, you can always start with a built-in grill. You'll love the extra space for holding plates and tongs, while guests can admire the thoughtful colors and crisp outlines of your newest fixture.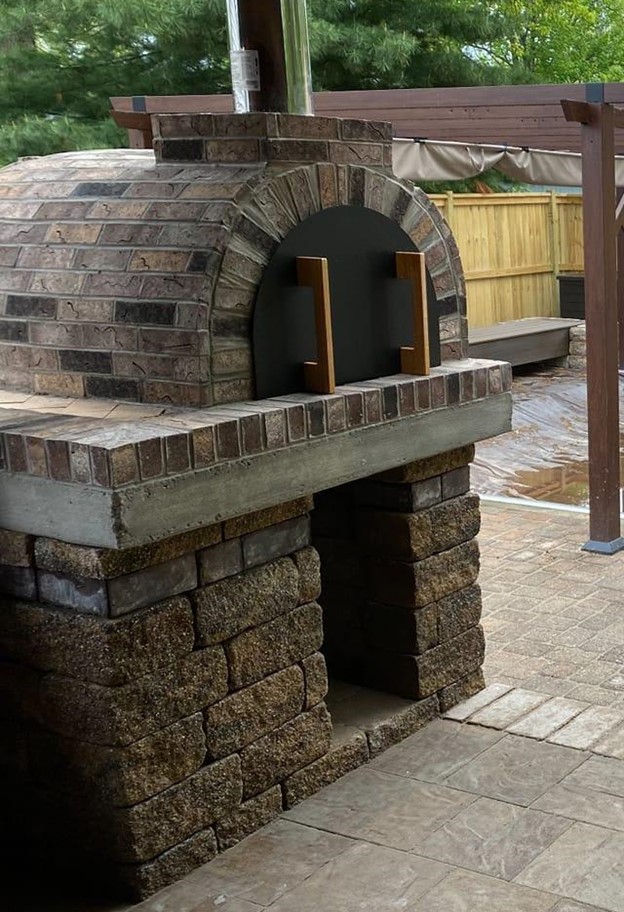 Are you a fan of fresh pizza or bread? This outdoor wood stove can help you bake both. You can fire up the oven to roast some impromptu dinner, or burn up some lumber without the eyesore of a burn pile.
If you don't want to be away from the action while you cook, you can always try this all-purpose outdoor kitchen for grilling, resting, and roasting. Join your guests in toasting some marshmallows over the fire while waiting on grilled chicken, smoked pork, or crispy kebabs.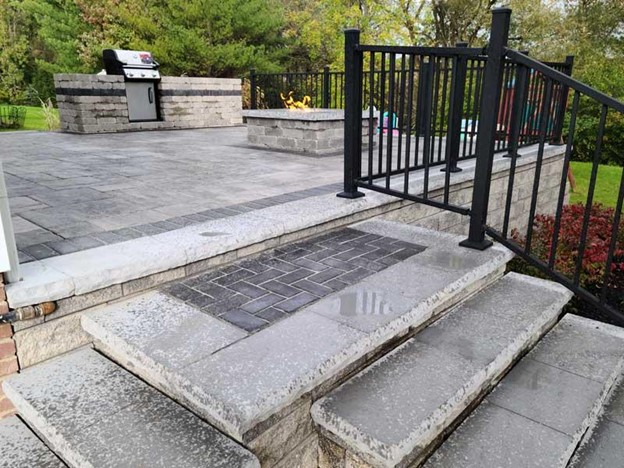 If you happen to be an outdoor cooking aficionado, you can always opt for a full outdoor kitchen space. This hardscape comes with counters and an embedded mini-fridge for the ultimate entertainment suite during holidays and get-togethers.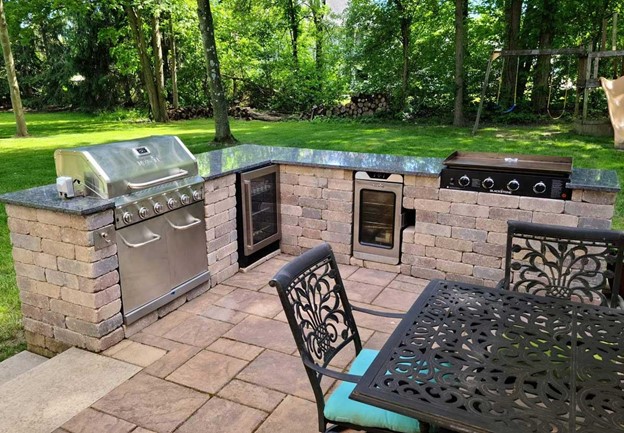 2. Outdoor Entertainment Area
You've always wanted to spend more time enjoying your backyard space. You just don't have the fixtures you need or the hardscapes you want to enable the festivities.
If you're a big fan of dinner and a movie, you can install an outdoor movie station to bring the inside out-of-doors. This covered porch comes with a fireplace and an outdoor screen for maximum coziness regardless of the weather. Popcorn, anyone?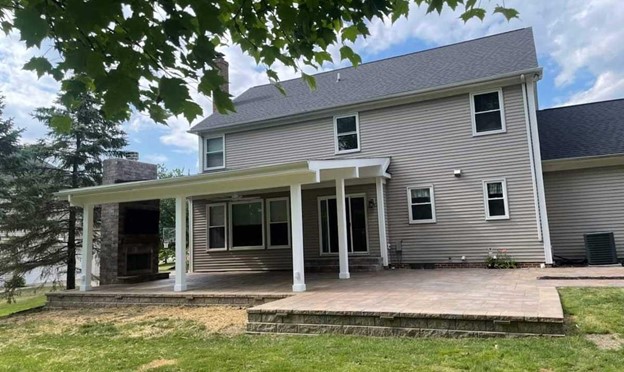 No outdoor hardscape is complete without an in-ground bar. Positioned alongside a lovely outdoor entertainment area, you can dish up tasty snacks without setting up a single collapsible table. How's that for functionality?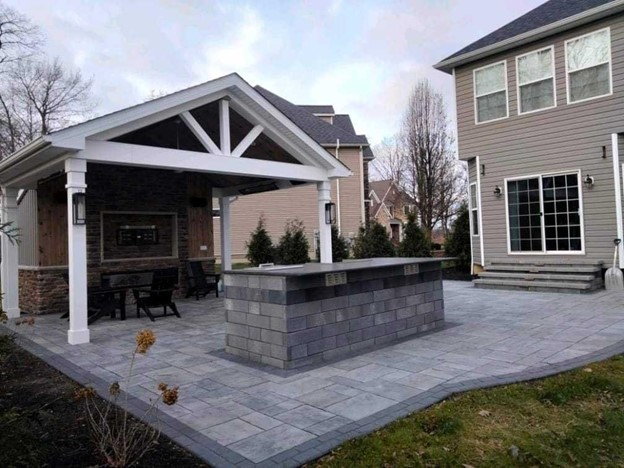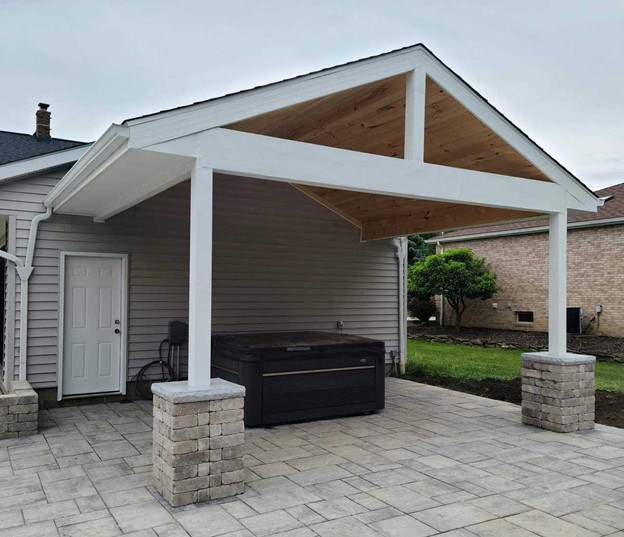 But outdoor entertainment areas don't have to be for other people. In fact, you can install unique hardscape spaces just for you and your loved ones. This hot tub covering, for example, makes the perfect backyard getaway for when you need to spend a little quality time alone.
3. Gathering Spaces
A catch-all gathering space is perfect for lazy weekend afternoons or late-night conversations around a roaring fire. With a little extra planning and a bit of a green thumb, you can also incorporate some tasteful botanicals for a pop of purposeful color.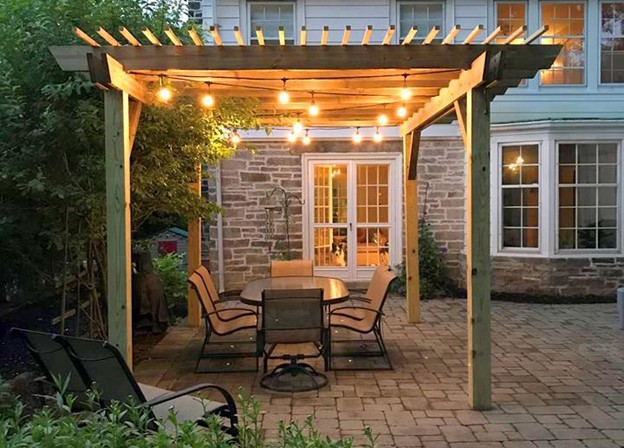 The first thing to try in a smaller yard is this lovely wood pagoda. The below example is complete with string lights for a moody evening effect. Imagine cool evenings spent chatting with the ones you love, or a relaxed spring morning with a hot cup of coffee.
Are you a night owl with dreams of cozy backyard fires? This comfortable outdoor seating area comes with all the bells and whistles. You can sit back and relax in the calm of a crackling fire, then enjoy the added legroom and for easy, spacious conversation.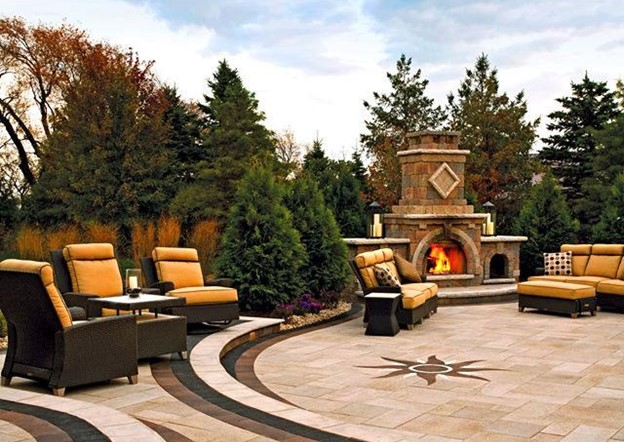 If you're interested in smaller spaces for closer, more intimate conversations, you can turn to this circular fire pit design for a little inspiration. The stone pillars and electric lanterns add extra light when you don't feel like setting a fire. Plus, the family-sized fire pit provides plenty of space for seating adjustments.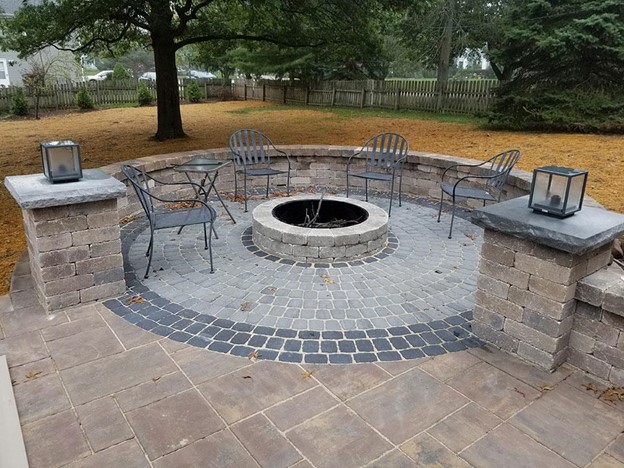 Now here's a backyard fire pit that accommodates for extensive planting! Put your green thumb to the test in this two-step, multifeatured gathering space. A landscaped tree acts as an eye-catching focal point, while sloping walls and embedded lighting fixtures give an all-seasoned look to your outdoor patio.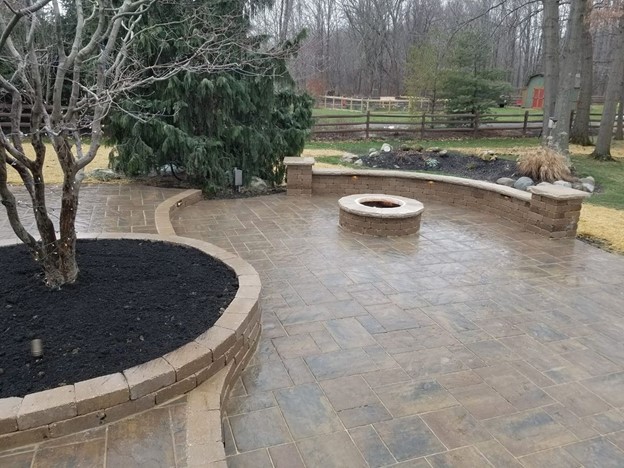 4. Update Your Borders
Whether you're looking for extra privacy, more protection, or a touch of pizzazz, adding some borders to your outdoor space can greatly update its look and feel. We've collected a few unique designs to get the creative juices flowing, including some less conventional ideas with beautiful execution.
This backyard fence, for example, combines a touch of the old and new. You can see a suggestion of the homeowner's taste in its wrought iron-esque design. The supportive wall adds another focal point to the build and ensures the flattened yard remains safe from erosion.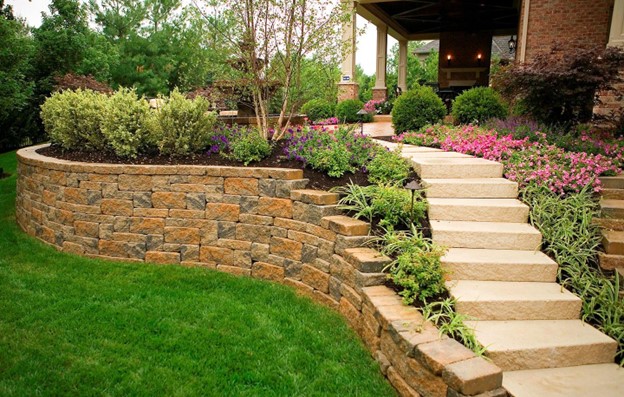 Speaking of retaining walls, you can also define the borders of your property with a well-placed brick divider. Shallow stairs and hydroseeded grass help this retaining wall stand out against the yard. The stately fountain peeking out from behind the shrubs adds another subtle yet satisfying sense of class to the space.
Maybe you're content with the preexisting design of your wall, fence, or stairway. In this case, you can simply upgrade what's already available with fashionable outdoor lighting. Outdoor lighting looks particularly stunning with adjustable color bulbs, especially around the edges of decks or backyard balconies.
5. Expand The Patio
Perhaps you already have a patio, but you're not particularly happy with how it looks. Maybe you just bought an older construction and want to install an updated patio in the yard. Either way, you can use one of these trendy ideas to add a touch of magic to the yard.
First up on the list is this backyard paradise with landscaping walls, retaining bricks, and a gently flowing waterfall. A few potted plants and some well-placed chairs bring the look of elegance together.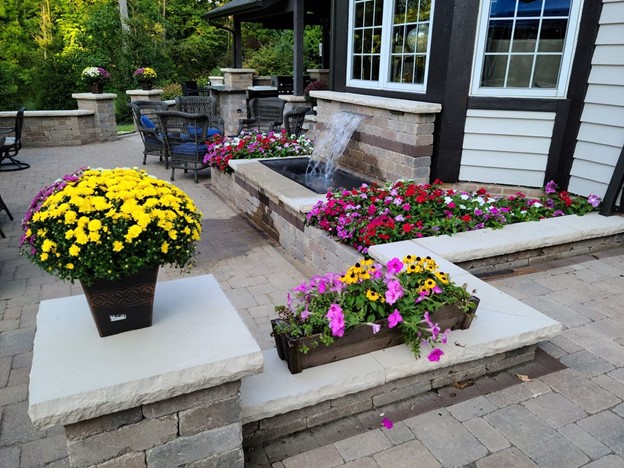 If you're interested in a spacious back patio without the added water feature, you can always opt for this simplistic design complete with elevated steps. Not only can people access your patio from the front or side of the home, but you can easily landscape the outskirts of the wall with fragrant herbs and flowers.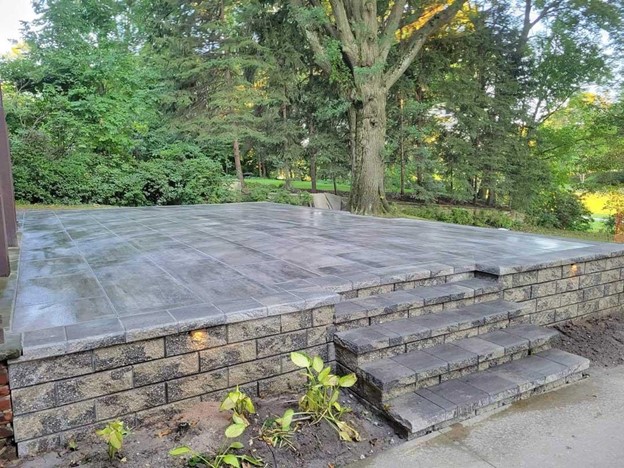 Don't have a backyard space with a flat enough grade for patios or balconies? Instead, you can try this retaining wall patio combination to reclaim your space without inviting a swampy mess. You can always pair this patio with a custom drainage system to keep unwanted puddles from forming near your foundation.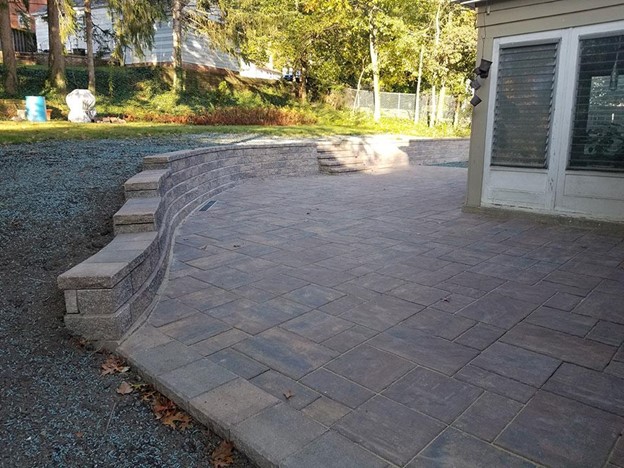 Wondering what to do with your less-than-spectacular pool area? Now may be a great time to upgrade your space. This rectangular fire pit accompanies some comfy lounge chairs for late night swimming sessions or midafternoon naps.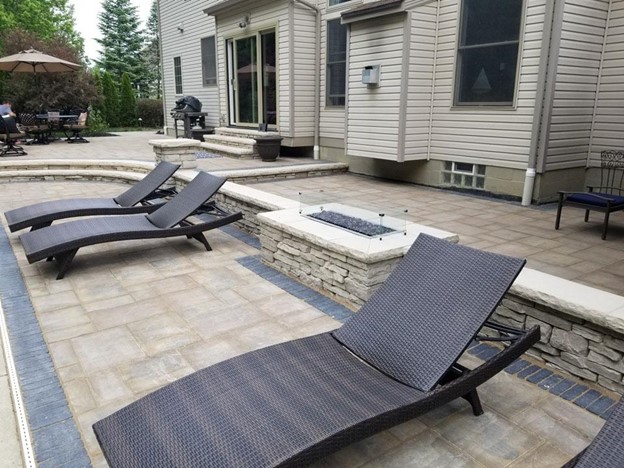 Take Advantage Of Outdoor Hardscape Trends With PurGreen Group Today
The benefits of a professionally designed hardscape are truly second to none. When you're ready to update your outdoor space with beautiful installations, don't hesitate to get in touch with the experienced team behind PurGreen Group. We offer 41 years of hardscape experience to the Northeast Ohio area. If you can dream it, we can build it — and the possibilities are endless.
You can get in touch with PurGreen Group by calling 440.256.1800 today. Want to get started on a hardscape design fast? Complete our online contact form to receive your free estimate.