Dealing with a poorly draining property? Struggling with a sloped backyard? A simple retaining wall can make a world of difference while optimizing your landscape design. Not only can you redirect water and ensure great drainage around your property, but you can also add some beautiful front yard landscaping to help your property really pop.
In this guide, we offer 11 great backyard retaining wall ideas you can use to fix your sloped backyard. You can browse each idea, check out each picture, then call PurGreen Group for a quote. We're proud to offer landscaping estimates for free so you can get a full quote before breaking ground on your project.
Now, let's dive in.
11 Simple Retaining Wall Ideas To Inspire Your Backyard Project
Looking to make the most out of your sloped backyard?
Dig into the details with these 11 great retaining wall ideas.
1. The Major Slope Retaining Wall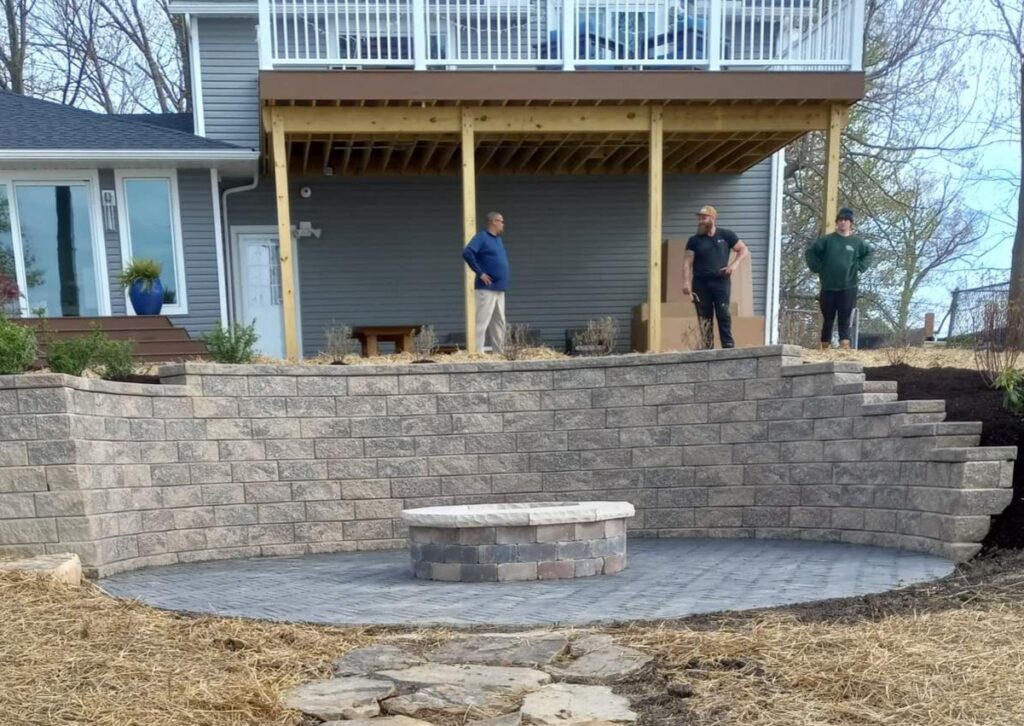 If you have a major slope or extreme grade change in your backyard, you may need to install a wall that's higher than the average fixture.
That doesn't have to be a bad thing, however. This homeowner used their ultra-steep backyard to their advantage by creating a beautiful space for their outdoor fire pit.
A win? We think so!
2. The Ultra Major Slope Retaining Wall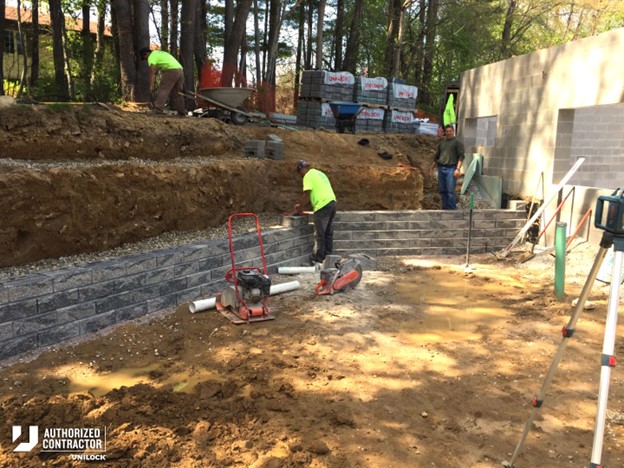 Let's say your backyard slopes even more than the previous example. That doesn't stop you from installing the ultimate retaining wall — or three.
This property owner took the challenge head-on by constructing not one, but three separate retaining walls. Not only does this offer even more room for landscaping, but it breaks up the texture of the wall and provides plenty of visual interest.
3. The Tapering Landscape Wall
If you have a longer backyard slope with a more gradual grade, you may want to consider installing a less dramatic retaining wall — including the one above.
This genial revetment gently draws the eye with the help of textured stone and flat-topped walls. The white coloration makes an excellent contrast with the brownstone of the house. Just imagine what this could look like after a single round of hydroseeding!
4. The Level Landscape Wall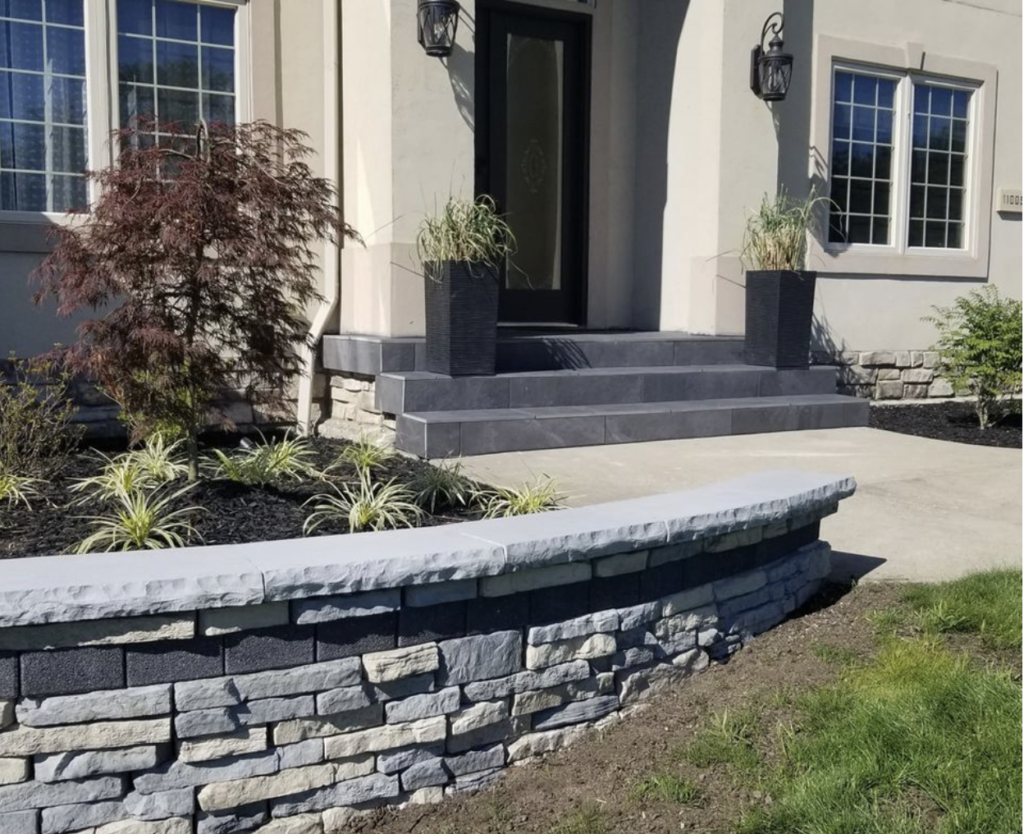 Some backyard slopes work better with retaining walls designed to run along the ridge of the slope. This project is an exceptional example of that, including its visually interesting masonry and a flat-topped wall.
Keep in mind the color of this retaining wall doesn't match exactly with the home behind it. This provides additional contrast and variation that draws the eye back to the well-maintained landscape.
5. The Patio And Retaining Wall Combination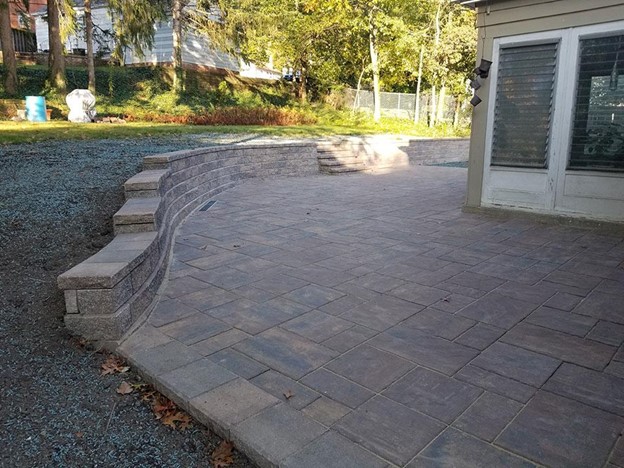 With the right retaining wall, it's possible to have your cake and eat it too. This homeowner used a functional retaining wall to create a water barrier and a level patio.
Rather than fighting against the slope or grading the entire property, this retaining wall-patio combination project is a great way to complete two outdoor projects at once.
6. The Fenced Retaining Wall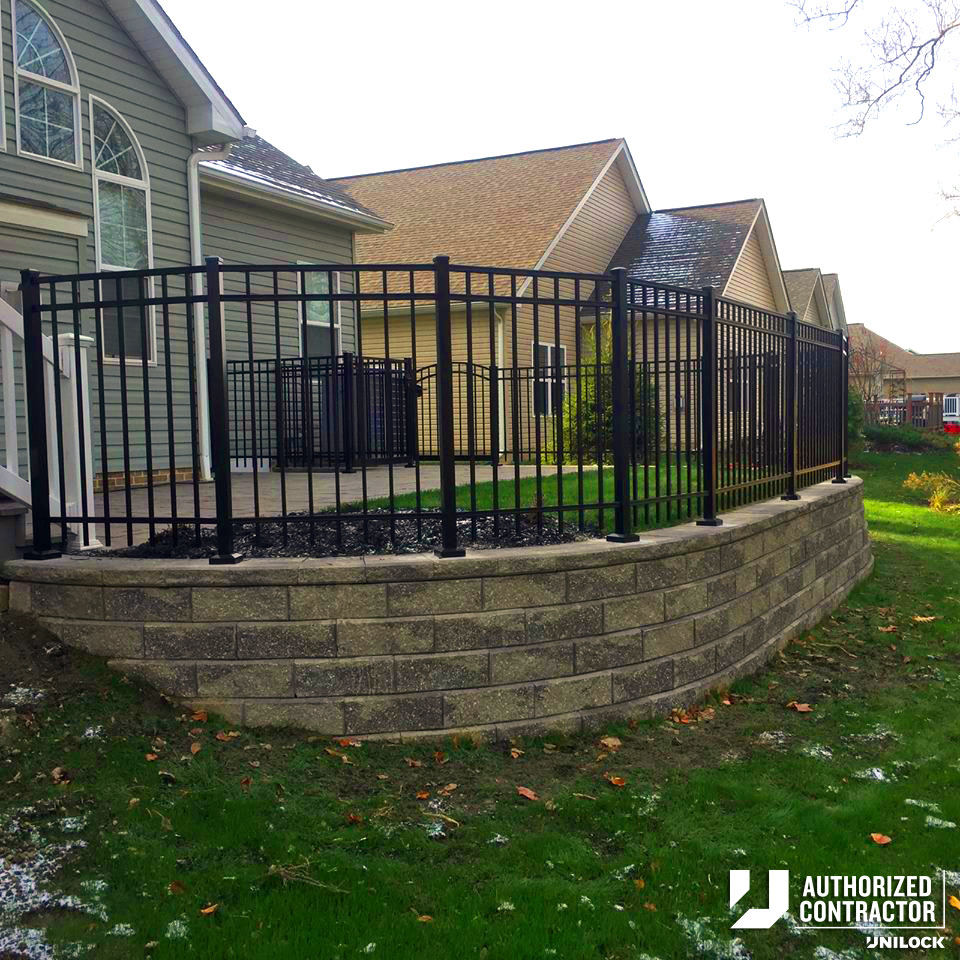 Rather not top off your wall with a single slab of stone? You can also opt to fence in your retaining wall and create more security around your home.
This retaining wall and fence combination works perfectly for a smaller backyard. The homeowner can enjoy a flatted backyard with an eye-catching fence that provides both decoration and protection.
7. The Step Up Retaining Wall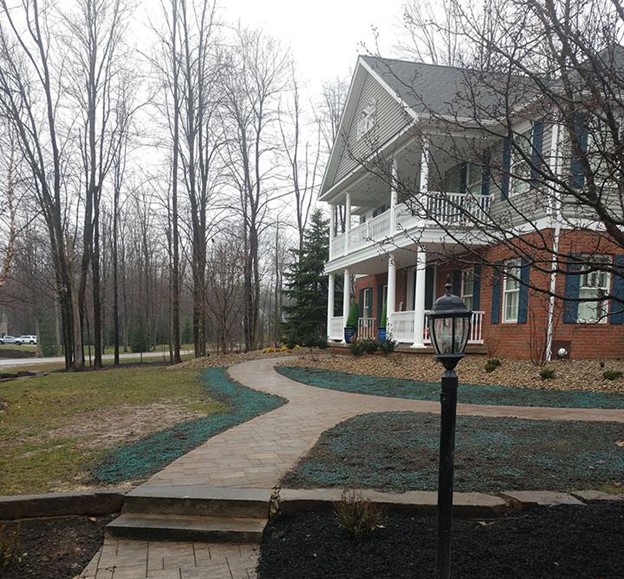 The slope in your yard may not be noticeable, but you still want a wall to break up the space anyway. Say hello to the step-up retaining wall: the best way to add value to a gently-sloped yard.
This retaining wall provides a single-step increase from the sidewalk to the rest of the home. Not only does it offer some great visual interest, but it also provides plenty of space for landscaping in the future.
8. The Landscaped Retaining Wall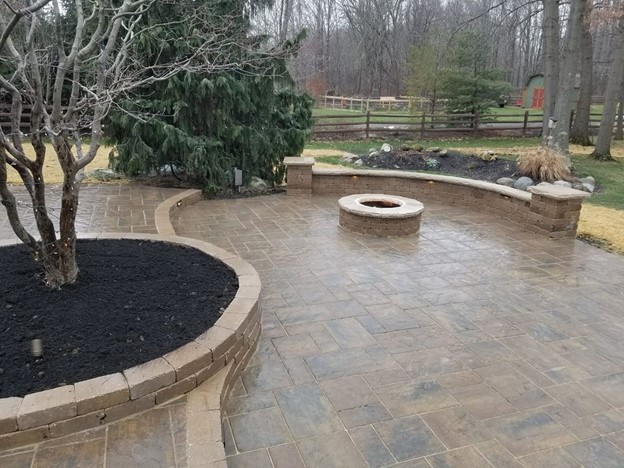 Imagine the patio and retaining wall combo from earlier — just with even more visual interest and functional design. This project includes a built-in fire pit and landscaping bed that homeowners can decorate to their heart's content.
Notice the slight step between the lower and upper part of the grade. This is an ingenious way to pull water away from the house without swamping its foundation (or your landscape bed, for that matter).
9. The Stone Retaining Wall
If you're not a huge fan of traditional retaining wall pavers, you can always opt for a more rustic look with heavy river stones. This prevents waterlogged mulch from escaping your landscape beds and simultaneously adds great texture and interest as well.
Don't forget to install a lovely paver pathway to bring your design together!
10. The Encapsulated Bed Retaining Wall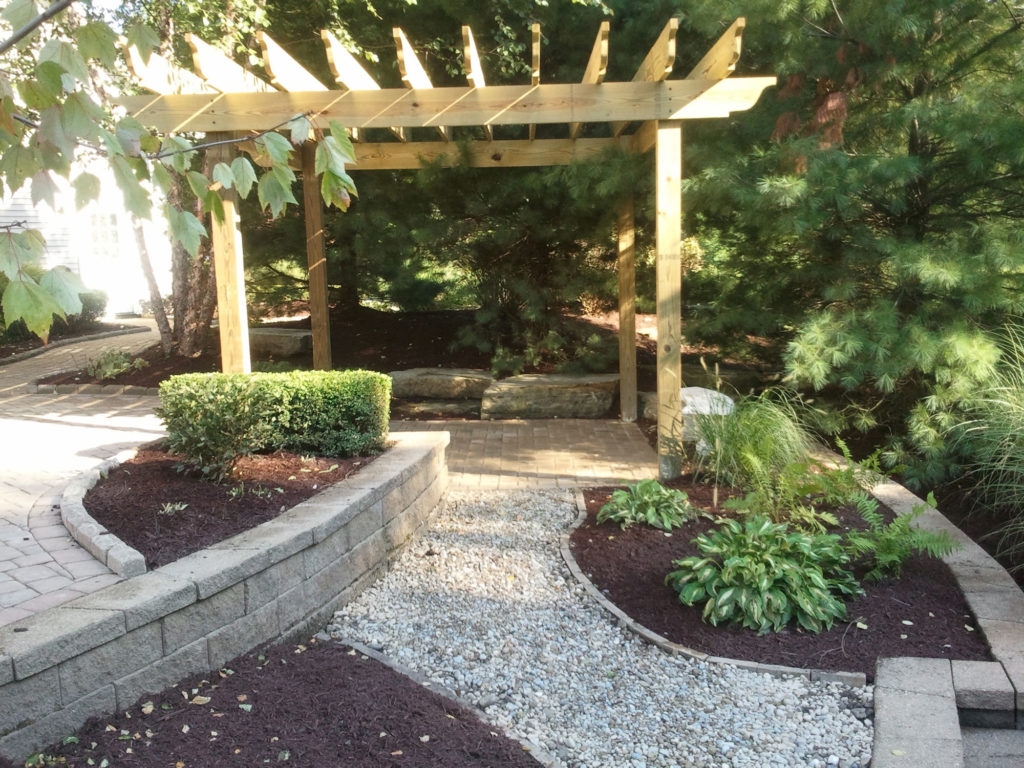 Why not use retaining walls to flatten your slope and hold plants for outdoor entertainment? This lovely pergola is beautifully adorned with an unassuming retaining wall and deep, rich mulch.
Low-maintenance shrubs and shade-loving perennials do well in this leafy space. For other ideas in sunnier spots, try annuals like marigolds, pansies, and petunias.
11. The Staircase Retaining Wall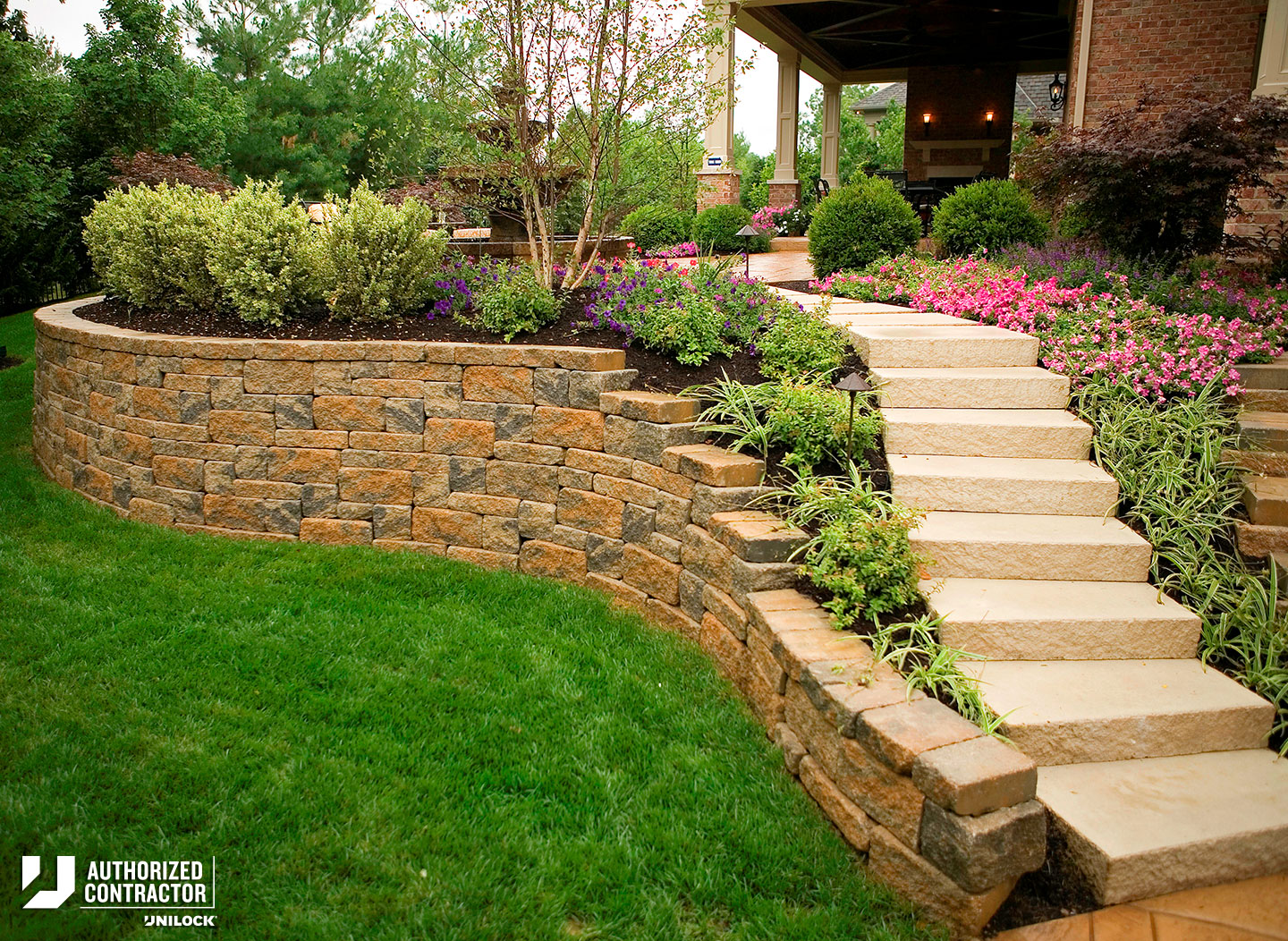 There's something to be said for the way a stairway looks — especially around the outside of your home's outdoor entertainment space. Combining your stairs with a beautiful retaining wall can add a touch of utility and design to any space.
Remember to opt for curves in your wall rather than just a straight line. Not only does this make the wall even stronger, but it catches the eye as well.
Contact PurGreen Group For A Free Retaining Wall Quote
No matter how steep the slope, how small the space, or how specific your budget may be, the perfect retaining wall for your backyard doesn't have to be out of reach.
PurGreen Group commands 41+ years in the landscaping and hardscaping industry. We've helped thousands of property owners all over Ohio discover the perfect retaining wall designs for their needs — and we'd love to help you as well.
With a little help from PurGreen Group, you can bring your retaining wall vision to life. Give us a call at (440) 256-1800 to request a free quote for your lawn.