Autumn is the beginning of the entertaining season in Northeast Ohio, which means it's just about time to build or update your outdoor entertainment center.
Whether you enjoy big gatherings and need lots of space or want to host your parties near an outdoor kitchen, we've collected seven of the best ideas to help you think through upgrades for your entertainment space.
Outdoor Entertainment Center Ideas: 7 Top Trends
With a little bit of planning and the right hardscaping specialist, you can celebrate the spirit of fall with a brand-new outdoor entertainment center.
Let's take a look at the most popular ideas for renovating your backyard space.
1. The Movie Lover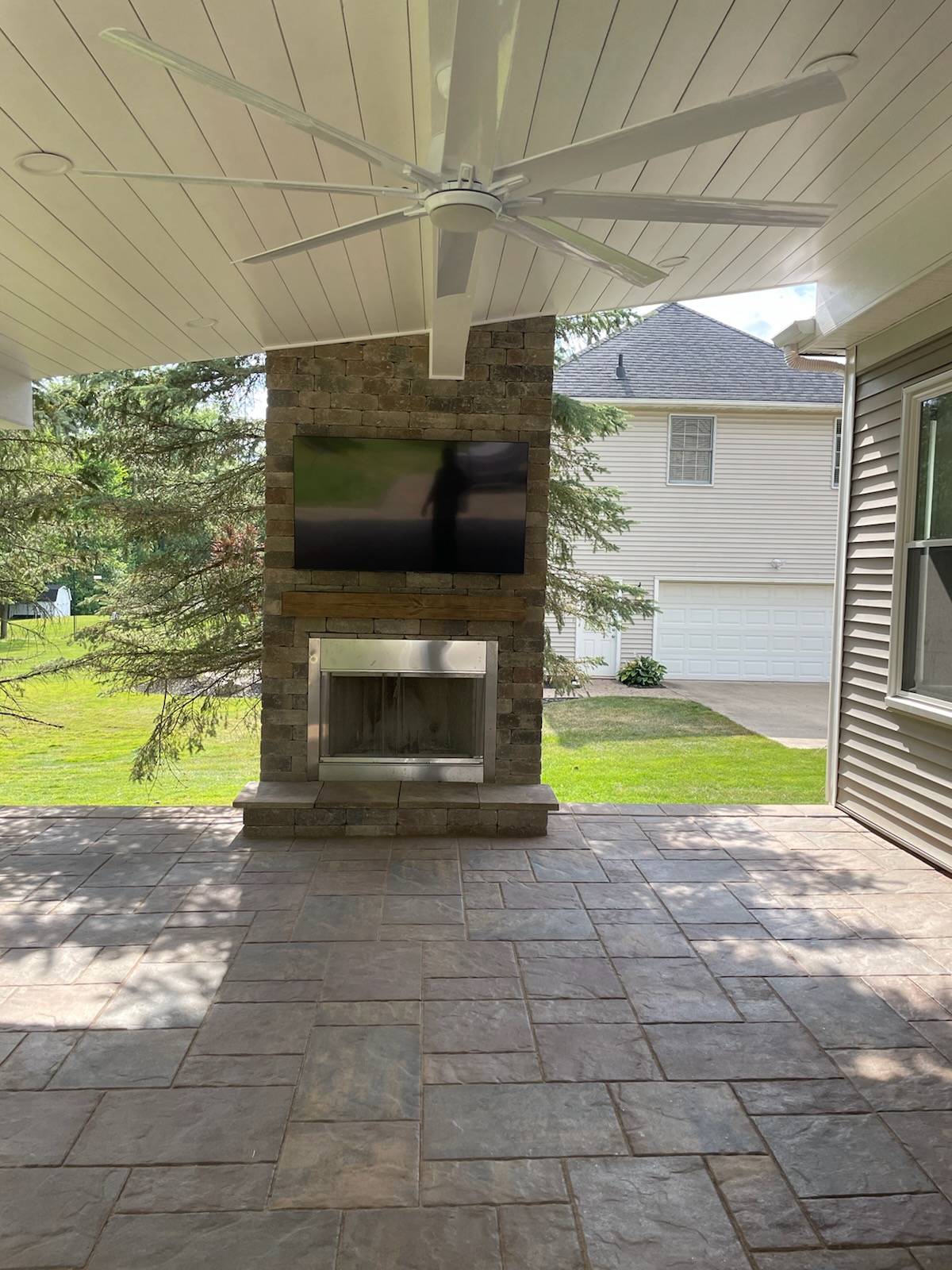 Ready to settle down with a good movie and cozy fire? This two-in-one covered entertainment center is perfect for mid-fall movie nights. Even if guests aren't in the mood to stream their favorite content, you can always put up your feet and talk the night away.
Still want to use your entertainment space in the summer? Check out the large ceiling fan above. You can adjust the speed to accommodate visitors and ensure your guests are comfortable during their stay.
2. The Outdoor Chef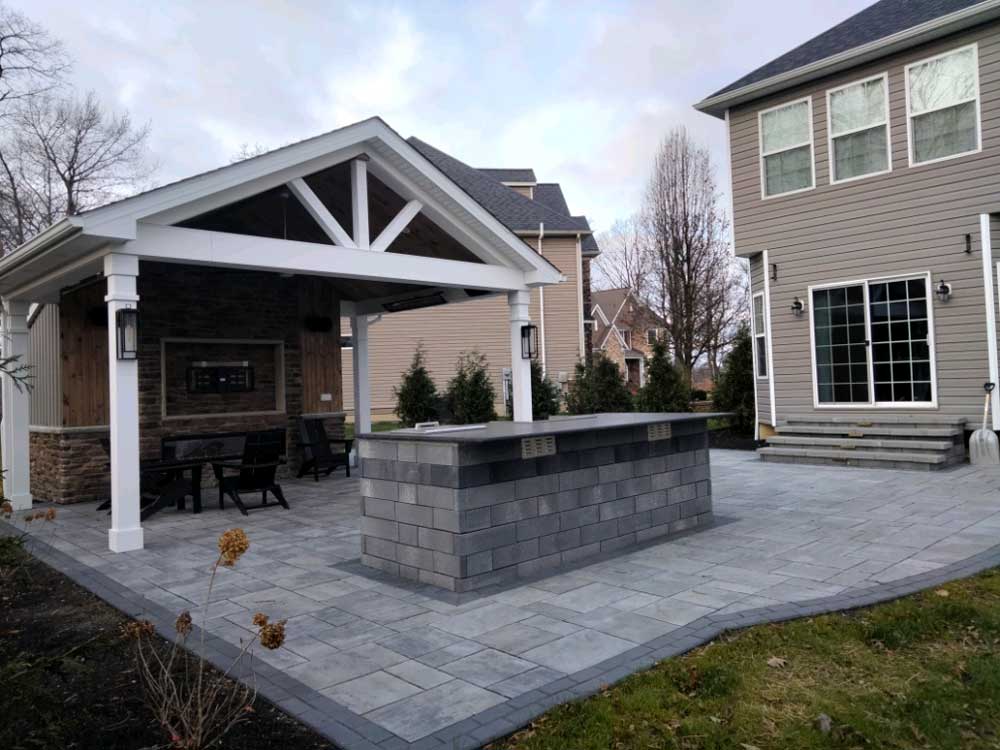 Foodies and sous-chefs will love an entertainment space designed for outdoor cooking and kicking back with great grub. The outdoor TV mount lets you customize your choice of screen, complimented by a beautiful fireplace and cozy Adirondack chairs.
Keep in mind the layout of your outdoor kitchen is totally up to your preference, taste, and cooking style. If you want additional details about how this could look, consult our comprehensive guide to simple outdoor kitchen ideas.
3. The Al Fresco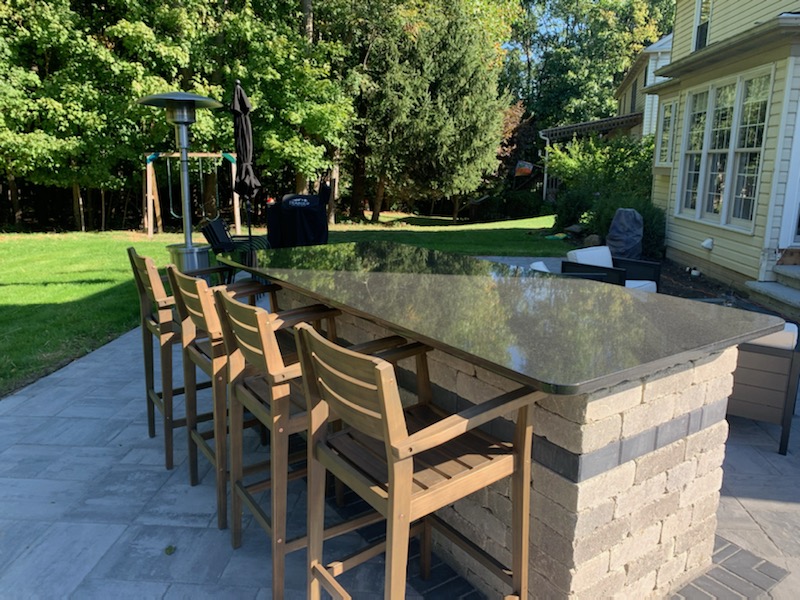 The sunny afternoons and cool evenings of fall lend themselves well to outdoor dining. This outdoor dining table is perfect for entertaining small groups of eight to 12 people.
Notice the removable space heater for those slightly colder nights and the invitingly landscaped backyard for friends and family to enjoy.
4. The Pool Party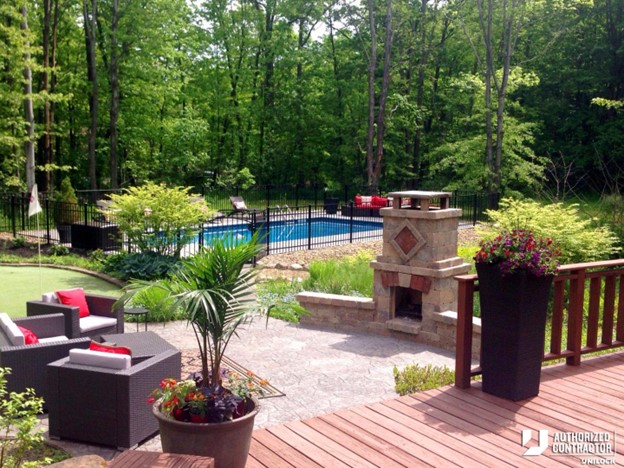 If you're one of those folks with an open pool in fall, this outdoor pool and patio design may be right up your alley. Not only can you enjoy the high-quality, complimentary pavers, but you can also appreciate a well-landscaped yard from the comforting glow of your fireplace.
Want another layer of visual interest? Composite decking is an attractive option that provides even more entertainment space. This is perfect for those hosting late-season pool parties with people going in and out of the water.
5. The Gathering Place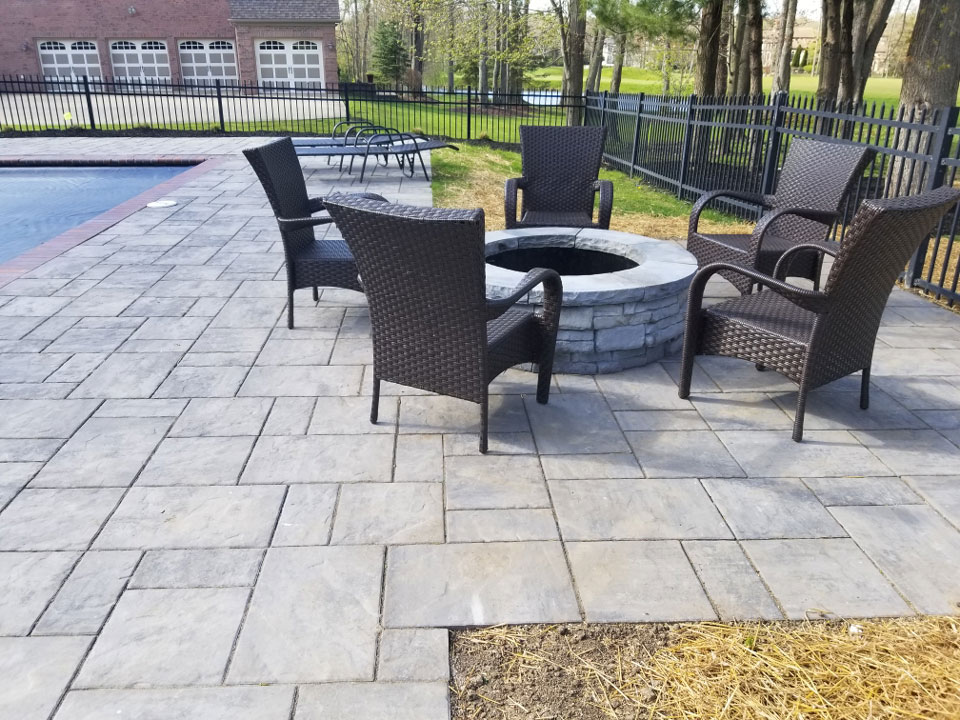 For a warm, inviting, yet neoclassical look, this outdoor paver patio is an excellent option. You can watch visitors fall in love with your clean-cut paver design, then gather around your fire pit for good music, good food, and good fellowship.
Keep in mind your fire pit doesn't have to be an above-ground design. You can always opt for a more traditional recessed pit or even a rectangular gas-powered range.
6. The Adjustable Space
Do you expect to host a gathering with large, multi-member groups? If so, an adjustable two-part patio design may be in your best interests. Not only can you create an underdeck entertainment area, but you can also build a raised patio space for hangouts in better weather.
Notice the beautiful paver steps and open beds ready for landscaping. To maximize this space, you may want to opt for lower-light plants such as hostas, ferns, and other eye-catching species.
7. The Private Getaway
Maybe you intend to host just a few people, or want to relax with your friends without the stress of prying eyes. This enclosed outdoor entertainment space comes with a beautiful privacy fence so you can recharge with R&R in a cozy, intimate setting.
The Private Getaway is a great design for those with hot tubs or below-ground pools. Not only can you host parties without the stress of unwanted onlookers, but you can also decorate your fence to maximize its interior appeal.
Make Your Outdoor Entertainment Center Pop With PurGreen Group
Whether you're looking to overall an existing entertainment center or ready to install a space of your own, you can rely on the team at PurGreen Group to create outstanding results that exceed your expectations. We have more than 41 years of experience serving the properties of Northeast Ohio, and would be honored to help you achieve your dreams of the perfect outdoor entertainment center.
You can get started with the design process today by contacting the pros at PurGreen Group. You're welcome to call (440) 256-1800 to speak with an expert or submit an online contact form to request your free in-person estimate.